Dental Sealants – New Britain, CT
An Easy Way to Protect Your Child's Teeth
When you take a more proactive approach to your child's oral health, life is just much easier. One of the benefits is that you can limit the chances of cavity development. To help in your quest for healthy teeth and gums for your child, when you bring him or her for a semi-annual visit at Pediatric Dentistry & Orthodontics with either Dr. Moe Beydoun or Dr. Hyun Jeong Lee, we can provide dental sealants. To experience the peace-of-mind this brings, contact us today to schedule a visit!
What is a Dental Sealant?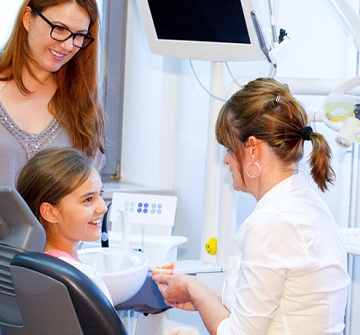 A dental sealant is a type of plastic material that coats teeth to protect them from bacteria and plaque growth, which young children are usually more susceptible to. Because the inside of the mouth can be so volatile with the constant influx of food, beverages and digestive fluids, it helps to have a safeguard in place to make it harder for leftover particles to cling to teeth, which can eventually lead to cavity development.
Here are the simple steps we take to apply dental sealants:
Each treated tooth is first cleaned and dried.
An acidic gel is applied to the surface.
The gel will rough the surface of the teeth, allowing for a strong bond between them and the sealant.
The gel is rinsed off, and the tooth is dried again.
The sealant is applied onto the grooves and hardened with a special blue light.
In this brief process, your child's teeth will be fortified, and you can avoid the need for complex restorative procedures that could flatten your wallet.
Get the Most Out of Your Dental Sealants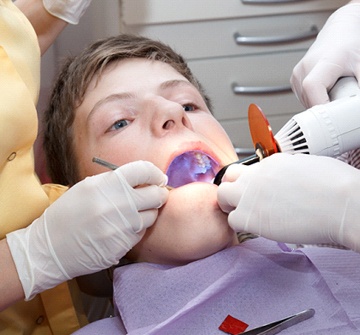 Typically, dental sealants can last up to 10 years with proper care, but what does that entail? For starters, it's important for your little one to brush and floss at least two times a day. It's also a good idea to provide some assistance for younger children to ensure their teeth are cleaned properly.
Although it can be hard at times to curb children's sugar cravings, it's best to place some limitations on how much they can consume. That's because it happens to be the leading attraction for new bacteria growth.
A final preventive step you can take is to continue bringing your child in for six-month visits. Therefore, either Dr. Beydoun or Dr. Lee can monitor the effectiveness of the dental sealants and provide any pointers needed.
By taking action today, your child can have beautiful and healthy teeth and gums. Better yet, this will help to set a habit of protecting his or her oral health well into the future!