Pediatric Emergency Dentistry - New Britain, CT
Providing Immediate Care When It's Needed Most
Looking for a dental practice that can treat your child's pediatric dental emergency? Fortunately, at Pediatric Dentistry & Orthodontics, our team of professional know exactly what to do to save your little one's oral health from experiencing long-term effects of a serious injury or accident. As children often do, they will run and play with very little fear. When an injury occurs, you need to feel confident and comfortable knowing the right people are taking care of your child's smile, which is why you will find only the very best treatments, technologies, and experts in our office. To learn more about us or inquire about ways in which we treat dental emergencies, contact us today!
How to Handle Common Dental Emergencies
The professionals at Pediatric Dentistry & Orthodontics are here to help! When an accident or injury occurs, your first step should be to call our office and alert us to the problem. This will give us an idea of how to best treat you and take care of the situation. If necessary, you and your child will be asked to come in. Otherwise, our team will be happy to provide detailed instructions regarding how best to take care of your child's dental problem.
Toothache
If your child has something stuck in his or her teeth, use dental wax to gently remove it. If they are experiencing severe dental pain, try giving them an over-the-counter pain reliever and ice pack, as this will reduce swelling and decrease discomfort.
Chipped/Broken Permanent Tooth
Since the edges of your child's tooth will likely be jagged or rough, the best way to avoid additional injury to your soft oral tissue is to place dental wax or sugarless gum over the area. Also, make sure to retrieve as many of the broken pieces as possible and bring them to your appointment.
Knocked-Out Baby Tooth
Although it's common for baby teeth to fall out, this shouldn't happy too early or it can cause additional problems for your little one's oral health. Instead, if your child knocks out a baby tooth, make sure you get in to see us as soon as possible. This will allow our team to take the appropriate action to prevent your child's nearby teeth from shifting as well as look to ensure their jawbone and nearby teeth were not affected. Should it be necessary, depending on how far along your child is before receiving a permanent tooth, we will insert a space maintainer to keep the area open and ready for their permanent tooth to come through.
Knocked-Out Permanent Tooth
A knocked-out permanent tooth requires immediate attention. If not treated within an hour, the tooth may no longer be savable. After retrieving the tooth and cleaning it off, you may be able to put it back into the vacated socket; however, if this proves unsuccessful, place it in a container of milk or between your cheek and gums and bring it to your appointment.
Lost Dental Filling
If you want to keep your child from developing tooth decay as a result of exposed enamel, you'll want to get them in to see an emergency dentist as quickly as possible.
Soft Tissue Injury
Whether it is a busted lip, scratched gums, or oral sore that has developed on your lip, these soft tissue injuries can be easily remedied at home with the help of a washcloth and warm water. By placing it onto the injured areas, this will decrease the bleeding by applying ample pressure. If the bleeding doesn't cease, make sure to talk your child to the nearest emergency room for immediate assistance.
Orthodontic Injuries
A broken wire or bracket can be painful to your soft tissues, which is why you can place a small bit of dental wax over the broken or busted area until you can see your orthodontist. You will need to schedule an appointment with our office as soon as possible so that your orthodontist can examine your smile and determine the appropriate course of action.
How to Prevent Dental Emergencies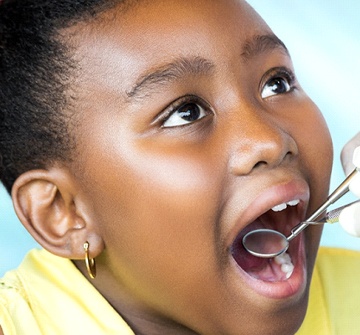 We all want our children to remain safe and accident-free, right? So why not consider a few additional ways you can better protect them and their smile? Consider the following tips:
Make sure they are keeping up with their morning and nighttime oral hygiene routines
Make sure they wear protective mouthguards while playing sports or going to bed to combat bruxism
Help them avoid hard candy, sugary or starchy foods, as other hard items such as popcorn kernels, ice, and even pens
Never allow your child to use their teeth as tools
Understanding the Cost of Treating Pediatric Dental Emergencies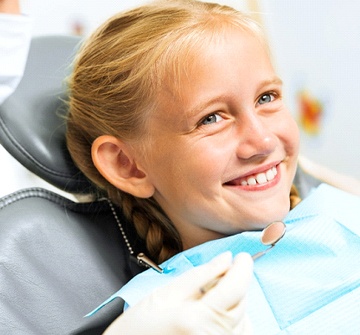 When your little one suffers a dental emergency, getting them urgent care should be your top priority—not fretting about the potential bill! That said, since every smile is different, as are the situations they encounter, there is no exact or fixed cost for emergency dentistry. When you come to visit us, we'll be able to give you an expected cost of treatment after we've examined your child's mouth and determined an appropriate course of action. Continue reading below to learn a little more about pediatric dental emergencies and their expected cost, or feel free to contact us today to request additional information.
Every Pediatric Dental Emergency Is Different
Emergency pediatric dentistry might not be as expensive as you think, since every situation usually differs from patient to patient. For example, a slightly damaged tooth is usually cheaper to fix than a tooth that has suffered severe trauma. When you bring your child in for their appointment, our team will quickly conduct an examination to determine the best way of alleviating their discomfort and resolving the issue. We will then walk you through every step of the process and explain every price detail you need so that there aren't any surprises when it's time to pay your bill!
Does Dental Insurance Cover Pediatric Dental Emergencies?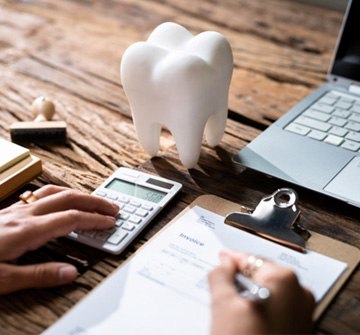 You'll be happy to hear that the majority of dental insurance providers will typically offer some coverage for pediatric dental emergencies. This often includes one yearly emergency exam that might be fully covered, in addition to partial coverage for common services including root canal therapy, restorations like crowns, extractions and more. That said, it's worth mentioning that every plan and patient's circumstances are different, so it's always wise to confirm the details of your coverage with your provider if you're unsure about committing to a particular treatment. Our skilled team is happy to sit down with you and navigate the specifics of your plan; we want your little one's smile to be taken care of, too!
Other Options for Making Pediatric Dental Emergencies Affordable
We understand the importance of being able to afford emergency care when your child needs it; financial barriers should never get in the way. That's why in addition to working with various dental insurance providers, we're also thrilled to offer financing through LendingPoint that can assist you with paying for your child's treatment at an affordable monthly rate.
Taking Care of Your Child's Smile Can Save You Money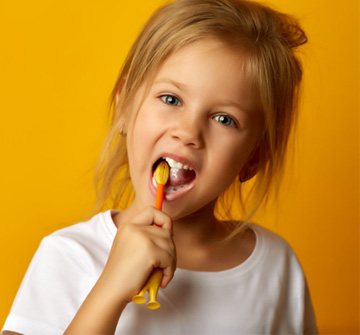 The most effective way you can save money when it comes to caring for your child's smile is by simply avoiding the need for emergency care—though, this is often easier said than done. However, there are still many measures you can take to protect their pearly whites, mainly enforcing a proactive approach concerning oral hygiene. With excellent at-home care coupled with routine preventive care, your child can enjoy great dental health for several years to come, while also being at a lowered risk of dental emergencies. It's also crucial that in the instance of a damaged tooth, you seek treatment for your child quickly in order to prevent future, costly problems from occurring.
Pediatric Dental Emergency FAQs
The world can come to a screeching halt when your child experiences any type of emergency—especially one that affects their smile! But you aren't alone, and our team here at Pediatric Dentistry & Orthodontics is here to help! We've gathered a few of the most frequently asked questions that we receive about pediatric dental emergencies so that you can rest assured you're quickly leaping into action and getting your little one's smile the urgent care it needs. If you have any other questions about what to do during pediatric dental emergencies, don't hesitate to contact our team today for further assistance!
Are Knocked-Out Baby Teeth Considered a Dental Emergency?
The short answer here is no, knocked-out baby teeth are not usually considered a dental emergency since baby teeth are intended to come out on their own. That said, it's still advisable to schedule an exam for your little one if one or more of their baby teeth come out prematurely. Our team can inspect their mouth and ensure that no permanent damage has resulted from the displaced baby teeth.
Should I Take My Child to the Emergency Room for Dental Emergencies?
If your child is suffering from a dental emergency, it might feel like you should drop everything and immediately take them to the closest emergency room—but this usually isn't the best idea. Hospitals generally aren't equipped to handle dental emergencies properly, and usually, they're only able to provide pain relief or address certain symptoms. However, if your child has uncontrollable bleeding, difficulty breathing or swallowing, a fractured jawbone, or any other type of serious symptom, you shouldn't hesitate to take them to an ER. Otherwise, don't wait to schedule an emergency dental visit promptly.
Do Chipped Teeth Heal on Their Own?
Believe it or not, tooth enamel is the hardest substance in the human body—but it is still not entirely invincible. This means that if your child has a chipped tooth, it won't fully heal on its own and needs to be addressed by their dentist. Fortunately, there are many treatment options that can effectively remedy the issue and restore the appearance and functionality of the tooth in question.
What Should I Keep in My Emergency Dental Kit?
It's always wise to be prepared for the unexpected; that way, when unforeseen circumstances occur, you're much more capable and well-equipped to handle them! This is where an emergency dental kit comes in handy—by having a collection of items suited for urgent situations, your child's smile can be cared for from the moment an emergency unfolds. You should consider putting together a kit with the following items:
A card with their emergency dentist's name and contact information
Ibuprofen or other over-the-counter pain relievers safe for children
Orthodontic or dental wax
Gauze pads, cotton balls, or a clean handkerchief
A small plastic container
An ice pack or cold compress