Tooth-Colored Fillings – New Britain, CT
Restore the Look and Function of Your Child's Smile
Despite advancements in dentistry, tooth decay continues to be one of the most common oral health issues among children. In fact, the Centers for Disease Control and Prevention recently shared that more than 40% of children between the ages of two and eleven have had cavities. The good news is that metal is no longer the go-to solution – our New Britain pediatric dentist can restore the look and function of your child's smile with tooth-colored fillings. To learn more, keep reading or get in touch with our team!
Why Choose Us for Dentistry for Children?
Two Highly-Trained Children's Dentists On-Staff
Gentle, Caring Dental Team
Accept All Dental Insurances
What Are Tooth-Colored Fillings?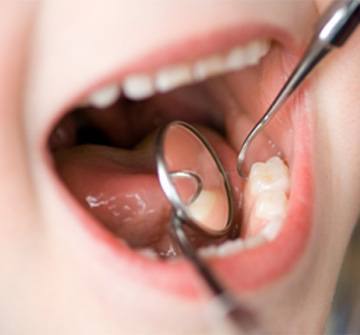 Previously, metal was a common material used to restore missing tooth structure. While certainly effective, the dark spots left behind left much to be desired. Fortunately, that's where tooth-colored fillings come in! The composite resin is similar to a putty and comes in a wide range of lifelike shades. As a result, it can easily bond to your enamel, will blend in beautifully with your child's smile, and will ensure their bite is no longer compromised.
The Process of Getting a Tooth-Colored Filling
Since each treatment plan is unique, the process doesn't look exactly the same for every patient. However, it typically can be completed in a single appointment and starts with a numbing agent! After your child is comfortable and at ease in the treatment chair, our pediatric dentist will remove the decay, select the perfect shade of composite resin, and sculpt it to the ideal shape and size. Then, they will harden it in place, check your child's bite, and make any final adjustments before applying a polish. After that, the entire process is complete!
The Benefits of Tooth-Colored Fillings
While the aesthetic benefits of tooth-colored fillings are certainly noteworthy, there are other reasons this restorative dentistry treatment is so popular, including:
They preserve more of your child's tooth
They result in less temperature sensitivity
They reduce your child's risk of tooth decay in the future
From start to finish, this treatment typically only takes one appointment