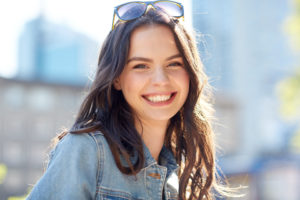 Does your teenage son or daughter want to straighten their teeth? Since you have already survived high school, you can probably relate to their desire to improve the appearance of their smile. However, straighter teeth can do more than just boost your child's looks and self-confidence. Orthodontic treatment such as Invisalign clear braces can also provide a range of positive health benefits. Here are a few important things to know when considering braces for your teen.
Why a Straight Smile Is a Healthier Smile
Here are just a few ways that orthodontic treatment can benefit the health of your child:
Correct an Open Bite – When teeth do not meet properly when you bite, it can make it difficult to chew the healthy foods your child's body needs. An open bite can also place too much pressure on the teeth that do meet, causing them to wear down faster.
Treat Sleep Apnea – A straighter smile can mean less snoring! Addressing jaw and bite problems with orthodontic treatment can sometimes help relieve obstructive sleep apnea by opening up the airway.
Reduce Gum Disease and Tooth Decay – Crowded and crooked teeth can often trap bacteria and tiny bits of food and make it harder for your son or daughter to brush properly. This can increase their risk of developing gum disease and tooth decay. 
Stop Bone Erosion – Misaligned teeth can lead to jawbone erosion in those areas that do not receive sufficient stimulation when chewing.
What Are the Best Options?
There are two primary ways to straighten your kid's teeth:
Traditional braces – Traditional braces use metal brackets, an archwire and elastic O-rings to put pressure on teeth and the jawline to slowly realign a person's smile. Metal braces remain the most effective orthodontic treatment for severe overcrowding.
Invisalign clear braces – Unlike traditional braces, Invisalign treatment uses a series of transparent plastic aligners that apply pressure to gradually move teeth into the desired position. This discreet orthodontic treatment is perfect for teenagers trying to survive high school or adults who do not want to compromise their professional appearance.
Who Is a Good Candidate?
Choosing the best orthodontic treatment option for your young son or daughter will depend on a variety of factors. For example, as a general rule, teenagers must have the majority of their permanent teeth in order to begin Invisalign treatment.
Moreover, Invisalign treatment requires a higher level a discipline than traditional metal braces, as the patient must remember to always put their removable aligners back in after eating or brushing their teeth. As you can imagine, some teenagers struggle with this!
Ultimately, any decision regarding how to straighten your son or daughter's teeth should be made in consultation with an experienced orthodontist. Contact one today to start your child on the path to a healthier, more attractive smile that will allow them to not only survive high school, but thrive!
About the Author
Dr. Meghan Alexander has nearly a decade of experience helping children and young adults improve their smile with quality orthodontics. A proud graduate of the University of Connecticut, she regularly attends continuing education courses at the local, national and even international levels. Parents interested in learning more about traditional braces or Invisalign treatment for their child can visit the Pediatric Dentistry and Orthodontics website or call Dr. Alexander at 860-224-2419.