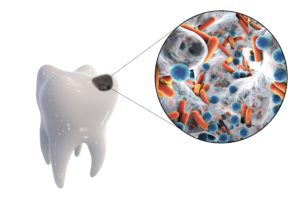 Nothing is more exciting than seeing your child's first baby tooth erupt through the surface of their gum tissue. As each month passes, more teeth with break through, giving your toddler a beautiful smile. Although the primary teeth are only in place for a few short years, they are essential to your child's development and oral health. The biggest threat to their baby teeth is tooth decay. Despite cavities being preventable, 42% of children 2 to 11 years old will develop at least one. If your toddler has a cavity, they need to see their pediatric dentist in New Britain, and here's why.
What Causes Cavities?
A cavity is caused by an acidic plaque that develops when sugar from the foods and drinks you consume combine with bacteria in your mouth. When the harmful bacteria aren't removed with regular oral hygiene habits at home, it will slowly eat away the outer later of the tooth called the enamel. Eventually, a small hole will form, called a cavity. If it's not treated quickly, it will spread deeper into the tooth. Over time, it can lead to a painful infection and your child can lose their tooth.
Why Should a Baby Tooth Be Saved?
Your child's primary teeth are only in place for a few short years before they begin to fall out, so why does it matter if they are damaged? Your child's baby teeth allow them to learn the proper oral functions they will need throughout life, like chewing and speaking. If a tooth is lost too soon, it can lead to delays with their development.
Not to mention, each baby tooth acts as a placeholder for their adult teeth. If a baby tooth is lost early, it can lead to alignment issues with their permanent teeth.
What Do I Do If My Child Has Cavity?
No one wants to hear that their toddler has a cavity, but if their pediatric dentist informs you that they've found an issue, it's best to have it treated right away, even if it's a baby tooth. If the cavity was found early, it can be treated with a simple dental filling. New innovations in dentistry make the procedure less invasive. Your pediatric dentist also offers pain-free options to ensure your child's comfort while the health of their tooth is restored.
Benefit from Early Detection
Cavities can go undetected and untreated until they turn into a big problem. You can give your child the power of early detection by taking them to their dentist every 6 months for an appointment. You can help keep their smile healthy in between appointments by staying committed to their oral hygiene habits at home.
About Pediatric Dentistry & Orthodontics
Our office is committed to providing the quality care young smiles need to thrive from one caring location. We focus on prevention to give them the foundation they need for lasting oral health. If it's time for your child's next preventive appointment or you suspect they have a cavity, contact our office today.