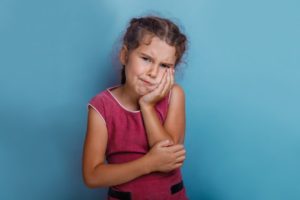 With the school year right around the corner, parents are stocking up on items like pencils, notebooks, calculators, and markers for their children. However, school supplies aren't the only factor that can influence your little one's success at school. Recent studies have shown that the healthiness of their smile can play a role in the grades they get in school. Read on to find out how your child's oral health and school performance are linked, and what you can do to set them up for a great academic year!
Connecting Oral Health & School Performance
Did you know that tooth decay is the number one most common chronic childhood illness? Baby teeth have less enamel than permanent teeth, which makes them much more susceptible to cavities. Children are at the highest risk when they're learning how to brush and floss their teeth properly, as many difficult to reach areas are often left uncleaned. This buildup of plaque and bacteria combined with lacking oral hygiene and a diet of sugary snacks can easily burn through the enamel and cause tooth decay.
While cavities themselves don't directly cause low academic grades, they can cause a variety of issues that impact your child's performance at school. Leaving tooth decay, gum disease, and other oral health problems unaddressed can lead to:
Trouble focusing: Toothaches and other dental symptoms can be distracting as your child tries to pay attention during class or while completing homework.
Speech issues: In younger children, losing a baby tooth prematurely because of oral health problems can cause changes in speaking patterns.
Lack of nutrition: If your little one's mouth is uncomfortable, they may begin to avoid eating the nutritious foods they need.
Lowered self-confidence: Your son or daughter will be less excited to show off their smile if they have dental pain, inflamed gums, or a toothache, which can damage their confidence.
Reduced attendance: Eventually, your child may have to miss one or several days of school to address an untreated oral health problem, which is linked to a lower grade-point average.
Tips for Great Oral Health This School Year
Even though the school year typically brings about a busy and hectic schedule, maintaining your little one's oral health will pay off in the long run. You can help them take care of their precious smile by:
Ensuring they brush their teeth for two minutes twice a day.
Helping them floss between their teeth daily.
Limiting the amount of soda, candy, and other sugary snacks they're exposed to.
Taking them to their routine dental checkups twice a year.
Remember, the healthy habits you teach your son or daughter now can set them up for a lifetime of happy, healthy smiles!
About the Practice
The talented team of Pediatric Dentistry & Orthodontics have years of specialized training and experience in caring for growing smiles. They're dedicated to making dental appointments relaxing while providing excellent preventive care to help form a foundation for a lifetime of great oral health. If you have more questions about how your child's oral health may be influencing their performance at school, they can be contacted via their website or at (860) 224-2419.