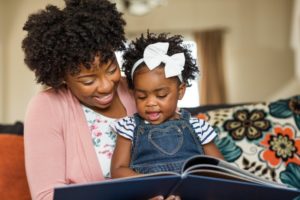 The first few dental appointments can be a somewhat nerve-wracking and overwhelming experience for both kids and parents alike! Thankfully, there are plenty of ways you can help put your little one's fears at ease and set them up for a great visit. One of the best ways to prepare your son or daughter is through children's books on dentistry. Here are a few examples of great books that can help you and your child get ready for their upcoming appointment with their New Britain children's dentist!
Children's Books About the Dentist
The unknown is scary at any age, so it's easy to understand why your son or daughter would feel anxious about being introduced to all the new sights, sounds, and friendly faces at their dentist's office. Demystifying the process by reading a book to them about dentistry can go a long way in helping them feel more confident in the dentist's chair. A few great books to try include:
Just Going to the Dentist, by Mercer Mayer
The Berenstain Bears Visit the Dentist, by Stan Berenstain
Daniel Goes to the Dentist, by Alexandra Cassel Schwartz
Curious George Visits the Dentist, by Margret & H. A. Rey
The Tooth Book, by Dr. Seuss
Dentist Trip (Peppa Pig), by Scholastic
Dora Goes to the Dentist, by Random House
Do Dinosaurs Have Dentists, by Patrick O'Donnell
Why Early Childhood Checkups Are Important
Pediatric and dental experts agree that a child should get their first dental checkup before their first birthday. Many parents don't think their child has enough teeth to warrant a trip to the dentist by the time they're a year old. However, early childhood dental appointments play an important role in how your little one will view dental care for the rest of their life! These visits are designed to:
Spot issues as early as possible: Early checkups help prevent tooth decay, cavities, and unhealthy gums, which can lead to painful and more complicated issues if left untreated.
Encourage your child to start practicing healthy habits: During your child's appointment at Pediatric Dentistry and Orthodontics, your dentist will take the time to educate both you and your little one on how to take care of their precious smile. As they begin to practice great oral hygiene at home, they'll be more likely to keep up their healthy habits for the rest of their life.
Help your son or daughter overcome dental anxiety: A smooth, pleasant first dental appointment can go a long way in helping your child form a good first impression of checkups. If they feel comfortable and at-ease in the dentist's chair when they're young, the less likely they are to develop dental anxiety later.
With a few preparations, your child's next visit to their dentist can be a great one! Try reading these books to help your son or daughter feel more confident about taking care of their smile.
About the Practice
Our talented team at Pediatric Dentistry & Orthodontics is proud to serve the growing smiles of New Britain, CT and the surrounding areas. Our kid-friendly office, state-of-the-art dental technology, and friendly staff all come together to make an ideal environment for your little one's dental care experiences. Whether your little one is teething or choosing colleges, we have the specialized care they need to keep their smiles happy and healthy for life. For more tips on preparing your child for their next visit, we can be reached via our website or at (860) 224-2419.