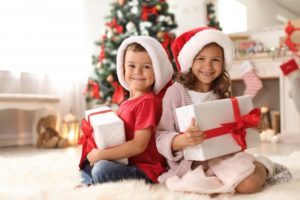 Now that the holidays are right around the corner, have you finished shopping for gifts? With so many toys and gadgets on the market, it can feel overwhelming looking for something that's both useful and kid-approved. This year, why not get your little one a present that will help keep their precious smile happy, healthy, and sparkling? Read on as your New Britain children's dentist shares six gift ideas for kids that will encourage better dental habits that could benefit them for the rest of their life!
1.) A Shiny New Toothbrush
Did you know the American Dental Association recommends replacing your toothbrush every three or four months? If that's a habit that you let slide this year, a new toothbrush is a great gift for your little one! Try getting child-sized toothbrushes in their favorite color or with their favorite cartoon character on them.
2.) Fun-Flavored Dental Products
One way to get your little one more excited to care for their smile is to shake up their normal mint-flavored dental routine! Nowadays, floss and toothpaste come in a variety of fun flavors, like watermelon, strawberry, bubble gum, and vanilla. Just make sure you choose a product that has the American Dental Association's Seal of Approval.
3.) Toothbrush Timers
Two minutes of toothbrushing can seem like forever for younger children. To help them stay engaged and entertained for the full amount of time, give them a fun toothbrush timer! There are several types of timers that can help your little one practice brushing for two minutes twice a day.
4.) Smile-Friendly Sweets
For many kids, the holidays simply wouldn't be the same without holiday treats. While no candy is good for teeth, there are some options that are safer than others. Sugar-free gum is a tasty snack that won't cause cavities, and soft candies like peanut butter cups and peppermint patties are easy on your child's enamel. If you're choosing chocolate, pick dark chocolate, which typically has less sugar than other variations.
5.) Children's Books About Teeth
A fun new children's book on teeth can help them practice reading and teach them about the importance of oral health. There are countless options to choose from and a variety of topics covered, including going to the dentist, losing baby teeth, and oral hygiene habits. For some children, seeing familiar cartoon characters like Spongebob Squarepants, Dora the Explorer, and Peppa Pig go to dental checkups, lose baby teeth, and care for their smile can help them overcome dental anxiety.
6.) Dental Playsets and Toys
There are plenty of toys to choose from that focus on teeth and dental care. Interactive toys and playsets can infuse some fun into the idea of caring for their smile. From Play-Doh teeth sets, dentist Barbie dolls, board games, and plush toys with smiling teeth to brush, you're sure to find something your little one will love!
Children's oral health gifts can be both fun and useful. The positive association they make with oral health can set your child up for a lifetime of happy, healthy smiles!
About the Author
Dr. Meghan Alexander of Pediatric Dentistry & Orthodontics has been serving the growing smiles of New Britain for almost a decade. As an active member of several prestigious dental organizations, she regularly completes continuing education courses to stay current with all the latest advancements in children's dentistry and orthodontics. She strives to help children maintain optimal oral health throughout all the busy seasons of life and make oral healthcare fun and educational. For more holiday oral health tips for kids, she can be contacted online or at (860) 224-2419.