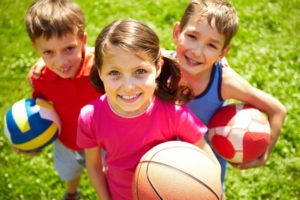 As a parent of a little athlete, you undoubtedly love to watch your child enjoy staying active. What you don't love to think about is how easily they could potentially damage their teeth and gums while they play. Dental emergencies are often sudden and unexpected, so it's essential that you know how to handle them before they strike. Or better, how to prevent them from happening in the first place! Read on as we explain everything you need to know about handling and preventing sports-related dental injuries.
Top Dental Injuries for Athletes
According to the American Dental Assistants' Association, five million Americans lose teeth in injuries related to sports every year. However, knocked-out teeth aren't the only issue you need to protect your little athlete from. Here are the most common dental injuries in sports and how to handle them:
Soft tissue lacerations: If your child sustains a cut to their lips, cheeks, or tongue, have them rinse carefully with saltwater to keep infection at bay. Then, put pressure on the wound with clean gauze until the bleeding stops.
Chipped or cracked tooth: Even minor damage to a tooth should be looked at by a dentist right away. If the edge of the tooth is sharp, you can cover it with sugarless gum or dental wax until you can reach your dentist's office.
Fractured tooth roots: Your child's tooth can be damaged below the gumline as well. Root fractures aren't always very noticeable, so make sure your child is going in for routine dental checkups every six months.
Partially dislodged tooth: A tooth that has been forcefully pushed out of place is in danger of falling out. Avoid using it or trying to put it back into place yourself! Your dentist needs to examine the socket and ensure the roots aren't damaged before splinting it back into place.
Knocked-out tooth: Only handle a knocked-out tooth by the crown, never the roots. Once you've carefully rinsed it off, the tooth should be stored between your child's gums and cheeks or in a container filled with milk. You'll need to reach your emergency dentist within 30-60 minutes for the best chances of successful reattachment!
Keeping Your Little Athlete's Smile Safe
Thankfully, there are plenty of ways you can help keep your little athlete's smile safe as they play. A healthy smile means strong teeth, so make sure your child is practicing great oral hygiene. They should be brushing their teeth for two minutes twice a day as well as flossing between all their teeth on a daily basis.
When it comes to sports, one of the best ways you can prevent dental injuries is with a custom-made mouthguard from your dentist. These personalized appliances are much more comfortable and effective than cheaper store-bought alternatives. Their custom fit and high-quality materials ensure that your little one's smile is as safe as possible while they're out on the field or court.
About the Practice
From infants to teenagers, at Pediatric Dentistry & Orthodontics, we are dedicated to helping kids of all ages in New Britain and the surrounding communities. Our highly experienced team has plenty of experience helping children protect their oral health both on the field and at home. In addition, we always do everything we can to accommodate same-day emergency appointments so your family can get fast, compassionate care when it's needed most. To learn more about getting a sports mouthguard for your child, we can be contacted via our website or at (860) 224-2419.