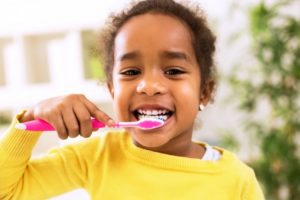 February is recognized as National Children's Dental Health Month! As you are buying chocolates and making Valentine's Day cards, take a moment to stop and appreciate your child's smile. Keeping their teeth and gums healthy as they grow is essential for their long-term oral health. Now is the perfect time to teach your little one about taking care of their smile that will benefit them for the rest of their life! Read on as we go over three great lessons to teach your child this National Children's Dental Health Month!
Brushing and Flossing Can Be Fun
Great at-home oral hygiene is the foundation of great dental health. Help your little one get excited about their daily dental routine by making it more fun! A few simple and practical ways you can do this include:
Trying fun-flavored toothpaste, floss or mouthwash (that has the ADA Seal of Approval
Letting them choose their own toothbrush or investing in an electric toothbrush
Spending two minutes playing a catchy song or reading to them as they brush
Setting a good example by brushing and flossing your teeth with them!
The Dentist Isn't Scary
Not many children are thrilled about dental appointments, but if your child is afraid of the dentist, getting the dental care they need can become quite a challenge. What's more, this dental anxiety can potentially follow them into adolescence and adulthood, making it even more difficult to keep their smile healthy.
Don't wait to take your child to the dentist until they have a toothache! They're much more likely to associate pleasant memories with dental appointments if they're calm and not in pain. That's one of the reasons why it's essential that your child gets a routine dental checkup and cleaning every six months. This way, any issues can be spotted and stopped as early as possible, or hopefully prevented in the first place!
Choose Smile-Friendly Snacks Instead of Sugary Ones
According to the CDC, tooth decay is the number one most common chronic childhood disease. Unfortunately, many snacks and foods that are marketed for children are brimming with sugar, which helps cavity-causing bacteria burn through the thin enamel on your child's baby teeth. Limiting your child's sugar intake will go a tremendously long way in protecting their smile from cavities. Instead, encourage them to eat healthier foods, such as:
Apples, carrots, cucumbers and other fibrous fruits and vegetables
Cheese, milk, salmon, almonds and other foods with calcium
Turkey, fish, eggs, and other items with phosphorus
Cantaloupe, bell peppers, broccoli, and other great sources of vitamin C
Remember, the lessons you teach your child now can influence their oral health for many decades to come. Use these tips to help set them up for a lifetime of happy, healthy smiles!
About the Practice
At Pediatric Dentistry & Orthodontics, we are passionate about providing gentle, high-quality care for the growing smiles of New Britain and the surrounding communities. Our highly trained children's dentists are proud to offer a comprehensive menu of services all under one roof to help your child achieve and maintain optimal oral health. To learn more, we can be contacted online or at (860) 224-2419.