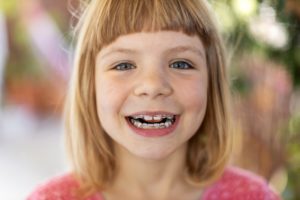 Most of the time, crooked teeth and braces are associated with the teenage years. However, did you know that your child doesn't need to have all their permanent teeth to get (or need) orthodontic care? In fact, early intervention with pediatric braces can make all the difference in preventing serious complications and expensive treatments in the future. Your child may even be able to achieve a straighter smile sooner than they would with traditional braces later in life! Here's everything you need to know about a pediatric treatment called Phase 1 orthodontics and how to tell if your child could benefit from it.
Isn't My Child Too Young for Orthodontic Treatment?
Since anywhere from 50-75% of children and teens end up needing orthodontic treatment, you probably wouldn't be surprised if your child's dentist or orthodontist told you that your little one does as well. However, many parents are surprised to hear that their child may need treatment before all their permanent teeth come in. The American Association of Orthodontics recommends that children get an orthodontic checkup by the age of seven, regardless of how crooked their teeth look.
While this may seem early, by the time your child is seven, an orthodontist can see how their teeth and jaws are developing and predict if they'll need treatment in the future. They'll also be able to spot the earliest warning signs of serious orthodontic issues long before they begin to become apparent or impact your child's day-to-day life. Like with many things, it's best to address these problems when they're still small and easy to treat rather than to wait for them to become bigger, more complex issues.
What Is Phase 1 Orthodontics?
Phase 1 orthodontics takes advantage of the fact that your child's mouth, teeth, and jaws are still developing. As such, they're easier to move and guide into the proper positions. Phase 1 orthodontics uses several different types of removable oral appliances that are worn at night. Depending on what your child needs, the appliance may shift teeth into place, realign the jaws, or help maintain the proper shape of their mouth. Some appliances can help with curbing thumb-sucking, which can influence how your child's teeth and jaws develop. After about a year of Phase 1 orthodontics, your child will have another orthodontic evaluation to see if any follow-up treatments such as Phase 2 orthodontics are needed.
Does My Child Need Phase 1 Orthodontics?
Not all children need pediatric orthodontics, so the only way to tell for sure if your child needs Phase 1 treatment is to have them evaluated by an orthodontist. You should also make an orthodontic appointment for your child if you're concerned about their:
Crooked, crowded or overlapping teeth
Gaps between the teeth
Teeth that stick out
Jaw shape or bite alignment
Continued thumb-sucking
Difficulty chewing or speaking
There's nothing as precious as your child's smile, so make sure it's off to a good start! Bring them in for an orthodontic evaluation to spot and stop any issues as early as possible.
About the Practice
At Pediatric Dentistry & Orthodontics, we're proud to care for the young smiles of New Britain and the surrounding communities. We offer a wide range of services that are designed to meet the unique dental and orthodontic needs of children, and our compassionate, talented staff are committed to setting your little one up for a lifetime of happy, healthy smiles. From our kid-friendly office to flexible financing options, we make it easy to keep your child's oral health on track. To schedule your little one's next orthodontic appointment, we can be contacted online or at (860) 224-2419.