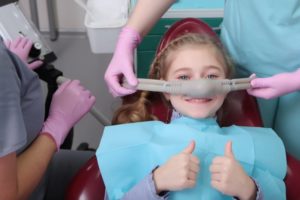 Nitrous oxide sedation is a light, trusted, and highly effective way to stay calm and relaxed at the dentist's office. Plus, it's proven to be safe and reliable for children as well! If your child has a fear of the dentist or difficulty sitting still in the treatment chair, nitrous oxide sedation may be the perfect answer. However, as a concerned parent, you want to know exactly what you can expect from this form of dental sedation. Read on as we cover how nitrous oxide sedation for kids in New Britain works, including whether or not it puts them to sleep.
What Is Nitrous Oxide Sedation?
Nitrous oxide sedation has been used for decades to safely calm patients during dental treatments. It's more commonly known as laughing gas! Nitrous oxide sedation is administered via a small nose mask, and within moments of breathing in the colorless, odorless gas, the patient begins to feel light, content, and perhaps even a little giggly. Throughout the appointment, the dentist and their team will closely monitor the patient's vital signs to ensure they are as safe and comfortable as possible. If needed, they can adjust the level of sedation at any moment. Then, once the treatment is over, the mask is removed and the effects dissipate nearly as quickly as they came on. This allows patients to go back to the rest of their day without interruption!
Countless studies have been conducted on the safety and efficiency of nitrous oxide sedation in patients of all ages. Researchers have found no long-term side effects or consequences for children who use nitrous oxide at the dentist's office. Side effects are rare, but some children will feel mildly nauseous for a short time afterwards. Overall, the prestigious American Academy of Pediatric Dentistry agrees that nitrous oxide sedation for children can reduce anxiety, lower discomfort, and encourage better communication between the patient and dentist.
Does Nitrous Oxide Put You to Sleep?
When patients are particularly scared of an upcoming treatment or procedure, it's not uncommon for them to ask to be "put to sleep" or "knocked-out." However, many don't consider the fact that being put completely under comes with serious risks. Alternatively, sedation dentistry offers the same level of comfort during a dental procedure with far lower risk. A patient may not recall much if anything about their appointment, but they'll be awake enough to answer simple questions and respond to basic instructions. They'll be conscious but unaware of the sights, sounds, and sensations that would often cause them anxiety.
If your child is nervous, anxious, or restless in the dental chair, nitrous oxide sedation may be the perfect option for them. To find out, schedule an appointment with your pediatric dentist.
About the Practice
At Pediatric Dentistry & Orthodontics, we're proud to provide gentle and compassionate care for young smiles in New Britain and the surrounding communities. Alongside our friendly team, welcoming office, and specialized treatments, we offer nitrous oxide sedation for children. We've helped countless little ones overcome their fears and get the dental care they need in a calm and relaxing environment. To learn more about sedation dentistry for kids, don't hesitate to reach out to us online or at (860) 224-2419.