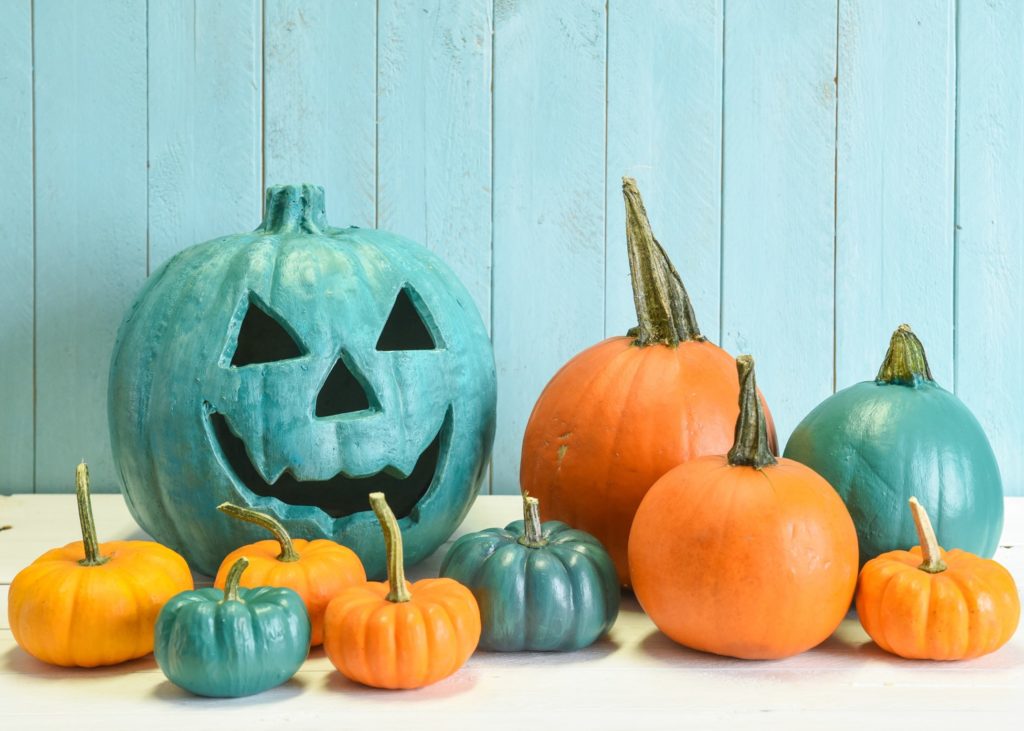 Burnt oranges, deep yellows, and muted reds are just a few classic fall colors that people love to decorate with. So, when you see a bunch of teal pumpkins, they are bound to stand out! Designed to help children with allergies trick-or-treat safely, The Teal Pumpkin Project is an initiative that's gained a lot of attention over the years. To learn more about it and why you should participate this Halloween, keep reading!
So, Why Is The Teal Pumpkin Project So Important?
It's currently estimated that roughly eight million children suffer from allergies – that's one in 13 children! Whether it's an allergy to nuts or an intolerance to gluten, these trick-or-treaters can't eat all of the "usual" candies that people pass out on Halloween night, like Snickers. That's where The Teal Pumpkin Project comes in. By placing a teal pumpkin outside your house, you can signal to families passing by that you offer non-candy treats too, making this spooky holiday a bit safer for everyone.
Bonus Benefit: It's Better for Your Neighbors' Smiles Too!
It's no secret that tooth decay is prevalent among adults and children alike. In fact, more than 90% of Americans have had a cavity by their 21st birthday! Since nearly 600 million pounds of candy are purchased each Halloween, it's not hard to see why cases of tooth decay spike during this time of year. By offering non-candy treats, you can help keep your neighbors' smiles decay-free this spooky season.
How To: Participate in The Teal Pumpkin Project
Want to participate in The Teal Pumpkin Project, but are unsure where to start? Here's a quick guide to help:
Get a teal pumpkin – You should be able to find one at your local home décor store during Halloween season. Otherwise, you can order one online or paint a pumpkin!
Purchase your non-candy treats – Glow-in-the-dark vampire teeth, slime, brain erasers, and mini-skateboards are all great options!
Add your home to the map – Let your friends and neighbors know that you're participating in The Teal Pumpkin Project by adding your home to the official Teal Pumpkin Project Map!
Halloween should be a spook-tacular holiday for all of the kids to enjoy, including those who can't indulge in the "usual" candy that's passed out. So, participate in The Teal Pumpkin Project this year!
About the Practice
At Pediatric Dentistry & Orthodontics, we offer complete care for growing smiles in a comfortable, kid-friendly office. So, whether your child is overdue for their six-month checkup, they're struggling with a painful toothache, or it's time for them to start orthodontic treatment, we're here to help! If you have a question about how to have a cavity-free Halloween or you'd like to schedule an appointment, don't hesitate to get in touch with our team via our website or by phone at (860) 224-2419.